When the time comes and you decide you want to sell your old gold and jewelry that you may not want or need anymore or to turn it into cash for whatever reason: pay bills, get a new home or apartment, pay tuition, or maybe you just got tired of wearing it or seeing it lying in your jewelry box or drawer. Alliance Gold and Silver Exchange is the best place to turn to when you want to sell your unwanted old gold and jewelry for cash.
Below is a list of some of the items we buy. If you are not sure if we will buy it or not, feel free to give us a call. We will test the karat, verify the weight, and give a FREE ESTIMATE with no obligation.
SELL YOUR GOLD
All unwanted, broken gold jewelry, rings, necklaces, bracelets, watches, pendants, dental gold, ear rings, coins and even gold bullion.
---
SELL YOUR SILVER
All unwanted, broken jewelry, rings, necklaces, bracelets, watches, pendants, earrings, coins, silver bullion and sterling silver flatware, all items made of silver.
---
There is No Appointment Necessary...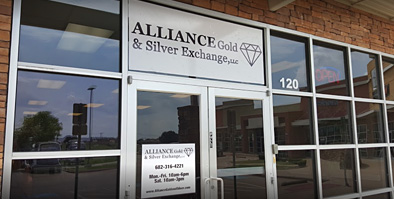 There is never an appointment needed. Just call Alliance Gold and Silver Exchange today or come to our convenient and secure location serving the Greater Fort Worth, Saginaw, Blue Mound, Haslet, and Keller Area for a free, no cost, no obligation evaluation and cash offer for your broken & scrap jewelry.
---
Contact Us Today

"They paid me more than I had ever expected. I will definitely
recommend Alliance Gold and Silver Exchange to everyone
I know. Thanks again!" - Ron C.


"I was surprised to know that they offer better prices than
pawn shops and other similar businesses. They offered me
the best price of anywhere I went." - Alena W.


"WOW! I'm so surprised at the value of my old gold jewelry
that had been sitting in my jewelry box for years! I will
recommend your service to my friends." - Monica S.


"So nice to deal with people who you feel you can trust.
Got exactly what I expected from my silver and it was so
quick and easy." - Kathryn S.


"So glad I came in to sell my gold jewelry. You were so kind,
patient, polite, and gave me confidence that I was selling
to the right person for an awesome deal." - Fred S.


"Hands down the best customer service around. Not to
mention the product quality was as great as the pricing.
If you're into Eagles, get over there now!" - Drew B.

SPOT PRICES – PRECIOUS METALS